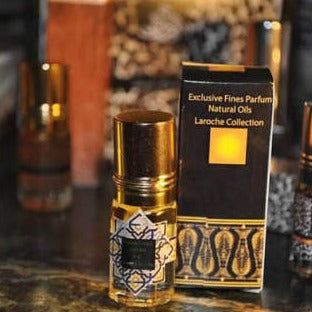 Description:
Unique, ancient blend of Rosa Damascena, Sandalwood Mysore and Agarwood.
The Rose used in this fragrance is made from slightly dried rose petals, which gives the scent a viscous and rich heart. A fragrance of simple elegance, yet so warm and wonderful, complex and auspicious. This is one of the Classics of Agar-scents, a fine everyday perfume, cherished by men and women alike.
Specs:
Top Note: Floral Rose Damascus
Middle Notes: Warm woods, Vanillic
Base Note: Oudhy Spice
---
Overview:
-Handmade item
-Materials: flowers, rose, agarwood, sandalwood, 
-Sandalwood Mysore
-Made to order
FOR MORE PRODUCTS & DETAILS, PLEASE VISIT: www.DearMusk.com 
*PLEASE NOTE: YOUR PACKAGE WILL BE SHIPPED OUT VIA DHL/FedEx Global EXPRESS & SHOULD BE DELIVERED WITHIN (3-5 BUSINESS DAYS) WORLDWIDE!* 

*WE SHIP WORLDWIDE!*

*BUY WITH 100% CONFIDENCE!*


Item(s) will be shipped within 24 hours after receiving a verified payment.


"Tax disclaimer: All of our products include an 8.875% combined City and State taxes in the final price."
Related Products
---