Premium Oudhy Pêche 3ml - Agarwood Aloeswood & Peach Perfume Oil Attar | Parfums Laroche - Sharif Laroche's Collection
---
Sale price
$75.00
Regular price
$150.00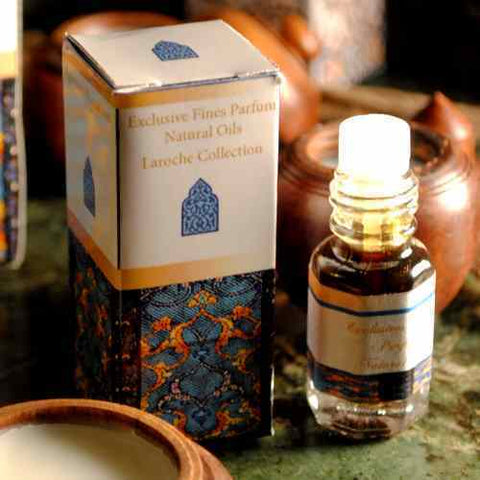 Premium Oudhy Pêche
Art Parfums Laroche
The Oudh and Fruit Collection, masterfully composed signature fragrances by our Perfumer Extraordinaire, comes as the natural choice of Wearable Essences. Enchanting perfumes suited for men and women, classic scents combined for individuality and sophistication.
Brought to Persia by the merchants on the Silk Road from China, the sweet-tangy velvety "persica" of old, here introduced as the aromatic addition to Oudhy Pêche, a delicate balance of sweet and spicy, smooth and woodsy. A fresh, spice-like tanginess envelopes as this Mukhallat touches the skin, blossoms into a musky herbal sweetness of flavorful fruit compote. As the senses get their scent-sory fill, the sweet Hindi Oudh develops, settles and gives stability and balance for the Mukhallat, bringing peace and contentment to the wearer.
The Laroche Oudh and Fruit French Arabian Collection of Scents is offering everybody a chance to experience the magic of Aroma infused Art Parfum. 
A wonderful unisex Mukhallat of high quality with a modern day scent profile, and for the one unfamiliar with French Arabian Parfum, a great first introduction to European Classics with Eastern Enchantment...
WHAT IS A MUKHALLAT OF ARABIAN PERFUMES
Oudh blends, makhloot or mukhallats, are mixtures of scents, essential oils or attars, which create sophisticated refined fragrances and perfume oils with the Eastern notes of bakhoor, spices, and blossoms.
Some comments from our previous buyers...
"delightful fragrance!!"
"vendeur très professionnels, produits de très bonne qualité. Merci encore....."
"Stupendous product and delivery. An extra 1g of AAA is always appreciated. Nice!"
"This perfumer is a genius. The most beautiful scents I've ever experienced."
'Brilliant service!!! loved the extras!! Will return for more!!!'
"Excellent service, quick delivery, awesome seller. A++++ And awesome fragrances!"
"Most incredible scents you'll ever smell - long time customer, and so will u be!"
ماجستير في بلدة الآداب! عطور مهيب! البائع ممتازة! الكمال! 100/100!"
*PLEASE NOTE: YOUR PACKAGE WILL BE SHIPPED OUT VIA DHL/FedEx Global EXPRESS & SHOULD BE DELIVERED WITHIN (3-5 BUSINESS DAYS) WORLDWIDE!* 

*WE SHIP WORLDWIDE!*

*BUY WITH 100% CONFIDENCE!*


Item(s) will be shipped within 24 hours after receiving a verified payment.


"Tax disclaimer: All of our products include an 8.875% combined City and State taxes in the final price."
Related Products
---