Authentic (Pure Green Egyptian Musk) Thick Intense Pheromones Attar Oil 3ml!
---
Sale price
$49.00
Regular price
$99.00
100% Authentic (Green Egyptian Musk) Real High-Quality Intense Pheromones/Aphrodisiac Attar Oil 3ml Bottle!
MANUFACTURER: IMPORTED BY

OUR

FAMILY MEMBERS (EGYPT)
(GENUINE NATURAL QUALITY)
*********************BUY 2 GET 1 FOR FREE!*********************
CONDITION: FRESH THICK OIL
EXTREME INTENSE SMELL PERFUME/SCENT OIL WHICH LASTS FOREVER!
One of the most Elegant, Beautiful, Luxury and Famous blends. This blend is the top selling in our DeerMusk Shop!
100% Pure High-Concentrated Fragrance Attar Oil, No Alcohol Added!
You can rub directly onto clothes apply on skin and rub in let stand for a few seconds to obtain the true smell of the oil with your skin, oils are stronger so less is needed and should last longer (results will vary per individual)
Egyptian musk oil is a special variety of musk oil, or just musk that comes from Egypt. Its original recipe and formulations are mentioned in ancient Egyptian books, although they are not easy to completely comprehend. Egyptian musk oil today is just an approximation of the original perfume product that used to be made in ancient Egypt. It is believed to be made with a number of ingredients. Presently, there are many brands making the so called Egyptian musk oil, although they have striking differences in aroma, properties and chemical constituents.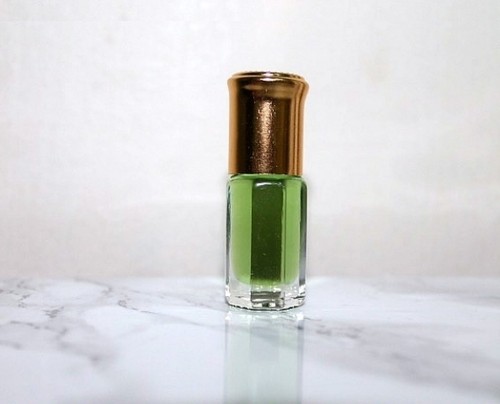 Source:
Musk is the common ingredient in almost all kinds of musk oil. Musk was originally the perfumed compound derived from the musk pods found in the Musk deer. Musk deer were hunted on a large scale for this prized aromatic natural product, which has led to a significant dwindling of their population. Now, animal musk is replaced with synthetic musk. These are the classes of compounds generated in the laboratory that mimic the original musk aroma to a great extent, though not fully. The ancient Egyptian may quite possibly have used the natural musk derived from the musk deer. Its aroma is a complex mix of aromas that can be described as woody, earthy, pleasant, sharp and fragrant.
The Ancient Egyptian Musk Oil contained the following ingredients:
Natural Musk

Frankincense

Myrrh

Patchouli

Rose
It contained a base oil, like rapeseed oil to keep all the ingredients well mixed. Besides, there might have been other ingredients too for their therapeutic properties. At present, the Egyptian musk oil is made using the original ingredients except for the Natural Musk. This is replaced either by plant sources which resemble musk, or by synthetic musk ( which is also called white musk ).
EGYPTIAN MUSK HISTORY:
Musk oil has been the most popular scented oil fragrance for many, many years. This fragrance is defined by a soft sensual aroma that delights the senses of the wearer. This fragrance is so unique that if anyone attempts to duplicate it's aroma it just won't be pleasing to users who wear this fragrance and are acclimated to its aroma. Egyptian musk wearers who have used this fragrance are not satisfied with anything else and won't settle for cheap substitutes or oil that has been diluted in order to stretch its use. There is absolutely nothing else quite like the fragrance of Egyptian musk oil. Egyptian musk has been in use for many thousands of years and has been refined today into a product that is just about impossible to beat in terms of fragrance. The Egyptian musk scented oil has a quality and character which is entirely its own. I have never seen an Egyptian musk perfume but I believe that if anyone attempted to produce a perfume it would flop as a product because it can never have the same character as the Egyptian musk oil. Egyptian musk was originally utilized to attract the opposite sex. If I were to be honest with you I will tell you that it attracts the opposite sex now. People who use this fabulous fragrance first use it because they like it themselves. The fact that the wearer of a fragrance loves it carries over in his or her attitude when they are wearing it in the presence of others. Wearing a fragrance which you know is popular and delightful to others gives a greater sense of confidence. The Egyptian queen Cleopatra is known for wearing RED Egyptian musk oil. In fact, it is believed that it was the mystifying scent of Egyptian musk oil that helped her to win over Mark Antony. Today it is possible to duplicate just about any and every fragrance possible. Prior to this, human beings were accustomed to making use of a wide variety of musk scents for the purpose of charming their mates and winning over their hearts. The use of Egyptian musk oil has remained consistent for the passage of time and you will be able to find many people across the globe that make use of this ancient scent in the same way that it has been used over the years. It was originally produced from the scent obtained from the musk glands of a wild catlike creature called a Civet. However killing the Civet and using its musk glands is not acceptable today. We have enough skill to reproduce this scent artificially. 
LIMITED QUANTITY REMAINING!!!
*WE SHIP WORLDWIDE!*

*BUY WITH 100% CONFIDENCE!*


Item(s) will be shipped within 24 hours after receiving a verified payment.


"Tax disclaimer: All of our products include an 8.875% combined City and State taxes in the final price."
Related Products
---