Saharan Incense Signature Perfume Spray 7ml Rich Frankincense Myrrh Amber Parfum Unisex - Sharif Laroche's Collection
---
Sale price
$110.00
Regular price
$220.00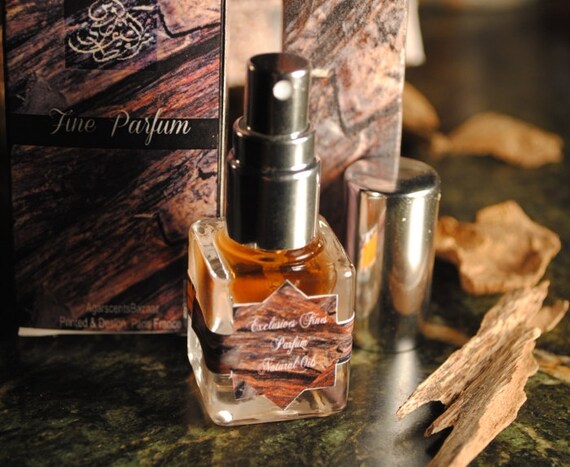 Accompaniment to our French Arabian Art Parfum, masterfully composed signature scents by Sharif Laroche, Perfumer par excellence...we are pleased to introduce Solide Parfum Naturel - exquisite, highly concentrated fragrances of depth and sophistication. These scent-sational Eastern essences are exclusive of the Laroche Collection of Art Parfums, Ancient scents brought out into the present. Richer in scent and texture than Eau de Parfum, carefully composed as Natural Parfum Sprays with a high content of pure oil base, these treasured scents will be lingering on your skin for the whole day, leaving a most scent-sational soothing ambiance of complete olfactory pleasure. High-quality essence in a small package - exceptional value now offered at a most reasonable price in a Connoisseur's Collection of Scents.


The 'Signature' Collection of Laroche Solide Parfums... intense, full bodied and refined luxuries. 
The 'Signatures' are uniquely designed by Sharif Laroche, intended to be ultimate scent-sations with a very high percentage of pure oil base. The authentic rich oil base gives the Signatures the strength and silage of Parfums, while remaining natural with a more 'attar' like texture and feel.


SAHARAN INCENSE
'Signature'
From the secret recipes treasured by generations past, skilled hands are preparing Scents of Ages, to be traded on the Incense Road of Antiquity. Caravans of desert ships are sailing miles upon miles of arid lands stretching between the wells of Life, where the weary may rest at nightfall. To soothe the lonesome, distant heart, small morsels of aromatic resins upon the coal is placed, raising scented smoke of trailing notes - Frankincense, Myrrh, Spice, Ambers and Woods...
Saharan Incense 'Signature', inspired by the Scents of Ages, recalls the richness of Eastern spicy-woody incenses with warm, resinous ambers; a special Solide Parfum carefully composed by Sharif Laroche. 
- Rich Woody-Spicy, Ambery, Sweet, Floral -
Recommended Unisex
Some comments from our previous buyers...
"delightful fragrance!!"
"vendeur très professionnels, produits de très bonne qualité. Merci encore....."
"Stupendous product and delivery. An extra 1g of AAA is always appreciated. Nice!"
"This perfumer is a genius. The most beautiful scents I've ever experienced."
'Brilliant service!!! loved the extras!! Will return for more!!!'
"Excellent service, quick delivery, awesome seller. A++++ And awesome fragrances!"
"Most incredible scents you'll ever smell - long time customer, and so will u be!"
ماجستير في بلدة الآداب! عطور مهيب! البائع ممتازة! الكمال! 100/100!"
*PLEASE NOTE: YOUR PACKAGE WILL BE SHIPPED OUT VIA DHL/FedEx Global EXPRESS & SHOULD BE DELIVERED WITHIN (3-5 BUSINESS DAYS) WORLDWIDE!* 

*WE SHIP WORLDWIDE!*

*BUY WITH 100% CONFIDENCE!*


Item(s) will be shipped within 24 hours after receiving a verified payment.


"Tax disclaimer: All of our products include an 8.875% combined City and State taxes in the final price."
Related Products
---