ROOH AL MISK (Black Musk) 3ml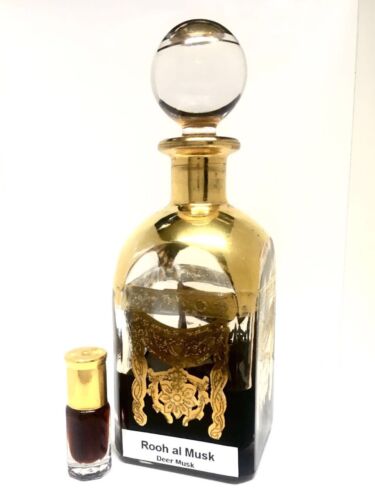 Fragrance Name: Rooh Al Misk (Black Musk)
Fragrance Family: Oriental
Brand: DearMusk
Fragrance Type: Oil
Size: 3ml
Rooh al misk. This oil gets as close to the real deer musk as possible, without the big price tag Just imagine dark, deep night with light wind and clear sky with a full moon. Sweet, aged, woody notes with a touch of dark dry fruits. All you need is a few drops on and it will last for rest of the day unlike other perfumes where you have to reapply.
The extraction of this oil is 100% ethical as it's our responsibility and duty to make sure no animal or creature is killed, harmed or hurt in the process. The musk deer is considered like a treasure to the farmers and people in this line of work. Thus, all necessary care and attention are given in the extraction of the musk pod which is done by an expert vet or a doctor specialized in this work.

Note: Deer Musk is extracted from the musk glands/pods of the male musk deer. This natural Deer Musk is acquired using ecological techniques on special ranches without damaging the glands and without destroying the animals.*
*NOTE: YOUR PACKAGE WILL BE SHIPPED OUT VIA DHL/FedEx GLOBAL EXPRESS TRACKABLE GUARANTEED DELIVERY CONFIRMATION! (3-5 BUSINESS DAYS) WORLDWIDE!*

*BUY WITH 100% CONFIDENCE!*

Item(s) will be shipped within 24 hours after receiving a verified payment.
"Tax disclaimer: All of our products include an 8.875% combined City and State taxes in the final price."